Faculty Members – Department of Bio-science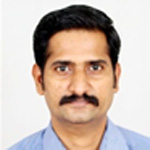 Dr. H. Harikrishnan
Associate Professor & HOD
Email: hkvaibhav2@gmail.com
Mob: 9447914199
Teaching Experience: 7.5 years
Research Experience: 5 years
Papers Published in peer reviewed Journals: 13 (International- 10; National- 3)
Book chapters published: 9 (International- 3; National-6)
Academic Qualifications
Ph.D- Microbiology from Madurai Kamaraj University
M.Tech- Biotechnology from Sathyabama University
B.Tech- Industrial Biotechnology from Anna University
Fields of specialization
Plant – Microbe interaction, Plant Pathology, Industrial Microbiology, Nanotechnology, Food Technology, Drug Discovery & in vivo Biology.
Awards and Honours
Junior Research Fellow – UGC- Meritorious Fellow
Senior Research Fellow- UGC- Meritorious Fellow
GATE Qualification: 2011.
Distinguished Alumni Award- "STAR ALUMNI-2022"- P.S.R. Autonomous Engineering College, Tamil Nadu.
Member- Board of Studies- Dept of Biotechnology- P.S.R. Autonomous Engineering College, Tamil Nadu- 2013 – 2018.
Outstanding Oral Presentation Award- International Conference on Sustainable Development in Energy and Environment (ICSDEE-2019), Kamaraj College of Engineering and Technology, Tamil Nadu.
Best Paper Award- International Conference in Advances in Biological
Sciences (ICABS- 2013), Kannur University, Kerala.
Best Poster Award- 54th Annual Conference of Association of Microbiologists of India (AMI-2013), Haryana.
Third Prize in Poster Presentation- International Conference on Advanced Materials, Processing and devices (AMPD-2013), Madurai Kamaraj University.
Token of appreciation Momento for Oral presentation- University of Madras, Chennai.
Two time Academic Excellence award- 2010 & 2011 from P.S.R. Engineering College.
Research guidance: M.Tech: 4 candidates M.Sc: 8 candidates B.Tech: 15 candidates
Funded research projects: 2 completed
Funded programmes organized: 3
Microbial Identification: Genbank Sequence Submission- 7
Organized Programmes and Invited Talks: 12
Scientific Presentations & Workshops: 31
Professional Bodies
Curriculum Convenor- Kerala Technological University- for B. Tech Food Technology and BHMCT (April 2019- December 2019).
Board Member- Board of Studies, Department of Biotechnology, P.S.R Engineering College, An autonomous Institution, Tamil Nadu (2013- 2018).
Former Controller of Examinations, Saintgits College of Engineering, Kerala
Journal Reviewer- Saudi Journal of Biological Sciences
Lifetime member- Indian Society for Technical Education (ISTE)
Lifetime member- Association of Food Scientists and Technologists(India)- AFSTi
Annual Member- Indian Science Congress Association (ISCA: 2015-16)
Google Scholar Citation Indices (latest by 28/02/2023)
Citations: 466
h-index: 11
i10-index: 12
---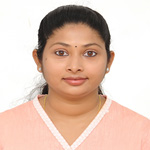 Dr. Stefi Raju V
Assistant Professor
Email: stefiraju1994@gmail.com
Mob: +919497292630, +917034592630
Linkedin: https://www.linkedin.com/in/stefi-raju-v-259859220
Orchid ID: 0000-0002-7439-8387
Academic Qualifications
Doctor of Philosophy in Microbiology 2018 – 2022
Master of Business administration in Hospital Management 2016 – 2018
Master of Science in Microbiology 2015 – 2017
Bachelor of Science in Microbiology 2012 – 2015
I am a motivated microbiologist with research experience in molecular and immunological aspects by conducting scientific experiments and result analysis. Have experience in handling microbial cultures, cell lines, and zebrafish embryos. Furthermore, I am adept at handling multiple tasks. My key strength is communication with others, which builds a strong relationship with people to deliver best results. I completed my Ph.D in Microbiology last year at SRMIST and now am currently working as Assistant Professor in SNGIST, Manjaly, Kochi. At present I have published 11 research articles and had presented my research work in 4 different national or international conferences.
---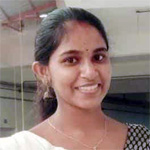 Ms. Arya.K.Jalasing
Assistant Professor
M.Sc. Biotechnology
Email: aryakjalasing167@gmail.com
Masters in Biotechnology with 5th rank at MG university level. Had teaching experience of more than one year and worked as research assistant at Kerala University of Fisheries and Ocean Studies (KUFOS). Had attended National and International seminars and conference. Participated National workshop on Hands-on training in Molecular Immunology Techniques, organized by Department of Fish processing Technology (Biochemistry), Kerala University of Fisheries and Ocean Studies (KUFOS). Presented poster in international webinar and an active member of IVVN and BactiVac. Keen interest in research mainly in the field of biotechnology and determined person who tries to encourage and guide students to achieve their best.
---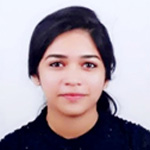 Ms. Devika P.R
Assistant Professor
M.Sc. Microbiology
Participated in the oral presentation at the International Conference on Biotechnology for Environment and Health (ICBHI), organized by school of Bio Science and Technology, Vellore Institute of Technology along with Association of Biotechnology and Pharmacy ,from November 26th 2021.
Attended seminar on Intellectual Property Rights organized by IPR cell in association with Karnataka state council for science and technology, Bengaluru.
Attended the International Webinar on 'Computer Aided Drug Design' conducted on 23rd January 2022 ,organized by the Institute of Innovations.
Attended the popular Science lecture- Webinar on " Models and Genomic Measure s of Psychiatric Disorder" Organized by the Indian women Scientist Association, Bengaluru Branch, Supported by The Board of Research in Nuclear Science ( BRNS- DAE).
Publication
Review Paper – Antimicrobial and Environmental Applications of Inorganic Nanoparticles Synthesised from Plants. Journal of Water and Environmental Nanotechnology , Dec-1, 2022
---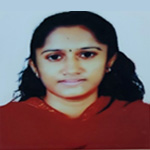 Ms. Sinda Jino
Assistant Professor
M.Sc. Microbiology
Years of Experience: 11 years

Worked as microbiologist in ayurvedic company, food industry, packaged drinking water company and hospital.
---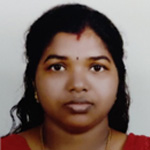 Ms. Vincy Mathai
Assistant Professor
Qualification : M.Sc Microbiology
Years of experience : 4.10 years
Professional Achievements
Certificate on Food and Safety Management System as per ISO 22000
ARS NET
Participant in webinar on Hello! i'm Covid 19
Participant in International webinar on Translational Research for Nutraceuticals and Nanocarriers for Cancer Drug Delivery.
Participant in National Seminar Bio-Enigma
Training programme for college teachers for the preparation of question bank and online generation of question paper.
Area of research interest : Agricultural Microbiology
---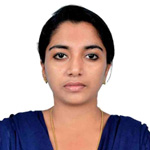 Ms. Geethu Harilal
Assistant Professor
Qualification : M.Sc. Biotechnology
Years of Experience : 7 Years
Awards
First Rank in B Sc Biotechnology under MG University with a score of 80% and 7th rank in MSc Biotechnology under MG University.
Project
Production and partial purification of lipase from Pencillium chrysogenum MTCC*160 by solid state fermentation.
Professional Achievements
Organized State Level seminar Micronora on the topics Nano technology, Dietary factors in cancer and bioremediation.
Prepared KTU Question paper for M Tech Sanitary Engineer
Area of Research Interest
My primary research interest is in the field of developing anti cancerous drug and drug for enhancing the taste receptors of chemotherapy patients.
---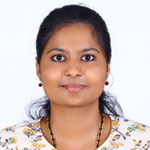 Ms. Ezabel Jiya Joy
Assistant Professor
Qualification: M.Sc. Biochemistry
Email: ezabeljiya@gmail.com
Have 10 months teaching experience.
Attended and organised an International Conference on Innovations in Biological sciences.
Attended various national and International webinars on Biological sciences.
---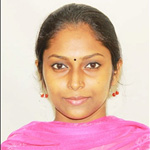 Ms. Anagha V Devadas
Assistant Professor
Educational Qualification
Master of Science in Biotechnology(2019-2021) SNGIST College of science and technology
Bachelor of Science in Biotechnology (2016-2019) Sree Sankara College of Arts and Science
Academic Project
B.Sc. Dissertation
1) A comparative study on the effectiveness of individual Bio fertilizer with consortium Bio fertilizer and its utility as marine Bio fertilizer.
M.Sc. Dissertation
2) Eco –friendly synthesis of silver nanoparticles from Cinnamon zeylanicum bark extract and its phytochemical and antimicrobial assay.
Experience
Quality Analyst/Quality Controller Biomerit Lab
Trainee as Molecular Biologist Rajagiri Hospital
Academic Teaching Conference
Application of Biotechnology in Agriculture CUSAT
---
---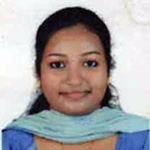 Ms. B. Aparna
Assistant Professor
Total years of experience : 8 months
Accademic Qualification
Bsc Microbiology from Amrita University
Msc Microbiology from MG University
Mphil in Biosciences from MG University
CSIR – NET Lectureship
Participated in various National and International Conferences and Poster presentation Competitions
Area of Interest
Mycology
Parasitology
Food Microbiology